Alisahotels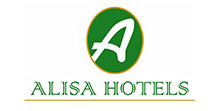 Since 1999, Alisa Hotels continue to invest in a true evolution, delivering panache and truly world-class hospitality with a distinctive new rhythm and style.
Our magnificent hotel guestrooms convey a tasteful design of the finest materials from floor-to-ceiling showcasing a sophisticated urban feel with plush picturesque views of the capital.
Inside, impeccable style, spectacular service, and a sense of intrigue defines the experience. Our guests enjoy a higher level of luxury with unparalleled hospitality and a detailed blend of Western and African amenities, including a personable and highly professional team of energized and helpful staff. Our guest services include a complimentary airport pick-up and drop-off to suit your needs.
We invite you to experience the distinctive style of Alisa conference rooms and facilities designed to accommodate small to large events with a state of the art array of technology and catering services to make your event a total success.